October 20, 2020
Having gifts that differ according to the grace given to us, let us use them: if prophecy, in proportion to our faith; if service, in our serving; the one who teaches, in his teaching; the one who exhorts, in his exhortation; the one who contributes, in generosity; the one who leads,

 

with zeal; the one who does acts of mercy, with cheerfulness.   Romans 12:6-8

Dear Brothers and Sisters in Christ,

God is blessing us at Anastasia Church in this season despite formidable circumstances. People are trusting in Christ, being baptized, and taking significant steps of faith in the power and leading of the Holy Spirit through this church body. I am grateful to the Lord and to all of you.

I would like to give you a brief financial update. First, thank you for your faithfulness in financially supporting the ministry at Anastasia Church. Because of your investment in the cause of Christ, we have been able to prevail and continue to reach out during this pandemic.

Support has been strong, but we all know that it was not the level that we anticipated before the pandemic. We anticipated $3.35 million in support. We project by the end of 2020 we will receive just over $3.1 million. Thankfully, due to the timely response of church leaders, we have been able to lower spending. I am grateful to ministry leaders who recognized the situation early and responded quickly. So we have been able to keep our spending in line with the funds that the Lord has provided to us.

As we return to more ministry activity, we are experiencing a need to increase ministry spending. Even with this increase in ministry need, I still believe that the Lord will allow us to end 2020 in the black.

All this is to say, our continued financial support for the ministry at Anastasia Church is crucial. Let us all encourage each other to persevere according to the ability that God has given each one of us uniquely.

How your contributions are used:
Tithes and Offerings: The tithes and offerings go into the general ministry budget and take care of providing for various ministries, facilities upkeep, utilities and staff at all our locations. A portion of these undesignated receipts goes to missions work around the world through the Baptist family of churches.
4G Building Fund: Contributions to the 4G Building Fund are used at the location where they are given. The funds are used for the brick and mortar projects at each location. For example, the planned Family Ministry Building at Anastasia Baptist Church (island), or the first phase building project at Anastasia Church Elkton, are funded through these gifts.
Acts 1:8 Missions Fund: Contributions to the missions fund are used to directly support missionaries and mission projects, such as the Wildflower Clinic in St. Augustine, the Crossmans in Moldova, the Hobbys in Montana, the church plant in India, or the orphanage in Haiti.
Thank you for what you have done, and thank you for your continued faithfulness.
HOW GOD IS USING ANASTASIA CHURCH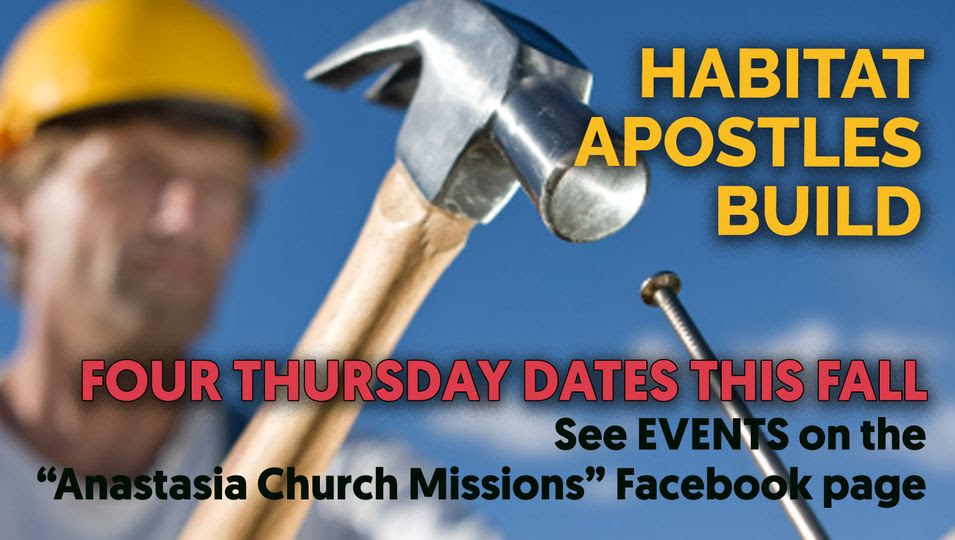 Habitat 2020 Apostles Build
Anastasia Church is participating in HABITAT 2020 APOSTLE BUILD here in St Augustine. This is a great opportunity to show the love of Jesus by addressing the basic necessity of providing shelter to those in need.
Because of the coronavirus, only five church volunteers are allowed on the site at a time. There are three more opportunities to serve on an Anastasia Church team: October 22, October 29 and November 12.
All volunteers must be at least 16 years old and must register and sign in at least 24 hours prior to the build. If you would like to volunteer, please go to this link to register, sign the waiver and sign up:
https://habitatstaugustine.volunteerhub.com/.
If you have any questions, please don't hesitate to contact either Rich Starratt (904-759-1749 or rstarr7173@aol.com) or Neill Robins (202-215-5672 or neillrobins@comcast.net).  For more information about other opportunities to help share the life-changing truth of Jesus Christ in our community, visit Anastasia Church Missions on Facebook.
Message Series: PROFILES OF LEADERSHIP
Join us this weekend, online or in-person, as Anastasia Church teaching pastors continue a 4-week journey of sharing the profiles of biblical leaders.
Operation Christmas Child Continues to November 16
Shoeboxes will be collected until November 16. Follow this link for more information and tips on packing.
New Schedule for Anastasia Baptist Church (1650 A1A South)
In order to better meet the needs of our children in ministry, we are changing the Sunday worship schedule at the island.
Traditional Worship:  8 AM and 11:15 AM
Contemporary Worship:  9 AM and 10:30 AM
 View the video of Pastor Walter explaining the need.
Please Continue to Pray with Me Daily at 7:13 
Wherever you are at 7:13 AM or PM, pray 2 Chronicles 7:13-14 for our nation and the world.
When I shut up the heavens so that there is no rain, or command the locust to devour the land, or send pestilence among my people, if my people who are called by my name humble themselves, and pray and seek my face and turn from their wicked ways, then I will hear from heaven and will forgive their sin and heal their land.  2 Chronicles 7:13-14
May God bless you richly!
Your Servant in Christ,
Pastor Walter
BELOW ARE COMMONLY ASKED FOR LINKS AND INFORMATION
This Past Week's Digital Bulletins for Your Anastasia Location
Assistance Due to COVID-19?
Those needing assistance due to the COVID-19 situation should send an email to RxHope@anastasiachurch.org.
Temporary Church Phone: 904-466-6341
Contact Us by Email:  abc@anastasiachurch.org
What to Expect at Church This Weekend
What about masks? We want everyone to wear a mask as they enter and leave the buildings for worship services and whenever are they are within 6 feet of other people.
Currently we are refraining from handshaking, hugging, and passing out bulletins.
Strategically located offering boxes have replaced the offering plates.
Anastasia Baptist Church (Anastasia Island)
Onsite Worship: Sundays 8 AM, 9 AM, 10:15 AM, 11 AM.
24 Hours a Day / 7 Days a Week, phone in for latest sermon audio. Dial (844) 385-1722. The first time you call, you will be asked if you would like to receive a call back every time the services are going to be broadcast live.
Anastasia Kids (ages 3 through 5th grade) will begin meeting September 27 at the 9 AM service. Capacity is limited, please make your child's reservation at AnastasiaKids.com.
Anastasia 16 Church
Anastasia Church en Español
Anastasia Church Elkton
Saturdays 10 AM, Onsite Worship at Anastasia 16 Church location, 110 Circle Drive E., St.Augustine.
Thank You for Your Continued Faithfulness in Supporting the Church Financially
You can make either a one-time contribution, or a recurring contribution, by following the GIVE tab on the church website. You may also mail your contributions to Anastasia Baptist Church, 1650 A1A South, Saint Augustine, FL 32080.